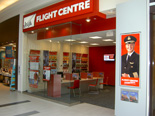 About Flight Centre:

Since its inception in Brisbane, Australia in 1982, Flight Centre has grown into a globally recognized name in travel, with eleven international brands, 1700 retail locations in eight countries, and over 12,000 employees worldwide.

In an era of increasingly depersonalized service, Flight Centre distinguishes itself from other travel retailers by offering the flexibility of multi-channel distribution, allowing customers to book reservations directly with an agent, on the phone, or through the online booking engine at www.flightcentre.ca.

Headquartered in Vancouver, Flight Centre Canada presently maintains 160 retail locations throughout British Columbia, Alberta, Ontario, and Nova Scotia, powered by a staff of over 1,000 team members. Named by The Globe and Mail's Report on Business as one of the top 50 employers to work for in Canada for the last eight years in a row, Flight Centre is the fastest growing retailer in the travel industry.

Flight Centre's Retail Needs:

Flight Centre is actively seeking locations within dominant Enclosed Malls throughout Canada. Require approximately 600 sf, strong walk-by traffic near food court or major entrance, min. 14' frontage.