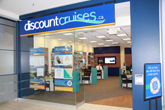 Announcement:
XO Retail is delighted to announce that we have been awarded the mandate to represent discountcruises.ca in their search for Enclosed Mall locations across Canada.

About discountcruises.ca:
discountcruises.ca opened its first Canadian retail location in April of 2011 in White Rock, British Columbia, with plans to expand throughout Canada.

Operating under industry leader Flight Centre's umbrella of international brands, discountcruises.ca uses its extensive global buying power to provide affordable, full-service, worry-free cruising. In addition to harnessing the negotiating clout of its parent company, discountcruises.ca emphasizes friendly and knowledgeable customer service through its team of Cruise Experts, all experienced cruisers themselves.

Beyond booking cruises, discountcruises.ca also offers assistance co-ordinating ground transportation, airfare, and accommodations. Like its parent company, discountcruises.ca offers the flexibility and convenience of booking online, over the phone, or in person.

discountcruises.ca's Retail Needs:
discountcruises.ca is currently seeking locations of 800-1,000 sf within dominant Enclosed Malls in Victoria, Vancouver and Interior BC. Strong customer traffic, min. 18' frontage.